Our world is changing in a breakneck pace. Internet and smartphones and the ever-advancing digitalization have opened up new and ever faster modes of communication, but also whole new business opportunities: we are now more connected than ever before, but also lost in the way we should navigate our business through these tricky waters. The speed of change is dazzling and in this sense, you might be wondering about how your business can adapt to this changes effectively. In our post about the customer service experience we already tried to outline for you how important a fast and effective customer service experience will be for your business to survive in this ever- changing service landscape.
The customer service of the future will predominately be formed through technology breakthroughs that improve and change the customer experience and is happening now and on the horizon. Through groundbreaking technological innovations customer expectations will also changing at a rapid pace and that's why service innovation should be an important keystone in your overall business strategy.
So if holoportation and augmented reality don't sound familiar to you, you should probably keep reading. Just think about how important a great customer service will be for the smartphone-industry and why it will be a key differentiator for your business. But how can we define the term service innovation in the right way?
What we can say for sure is that there is a huge amount of theoretical literature about service innovation: In fact, some of the articles on service innovation are very complex, so we try to define service innovation for you in the simplest way: Service innovation can be defined as any new services developed during innovation processes which are valuable for your customers.
In contrary, the need for service innovation are currently pretty clear: the rapid technological advances combined with high customer expectations and the intensified competition in an ever- changing business environment!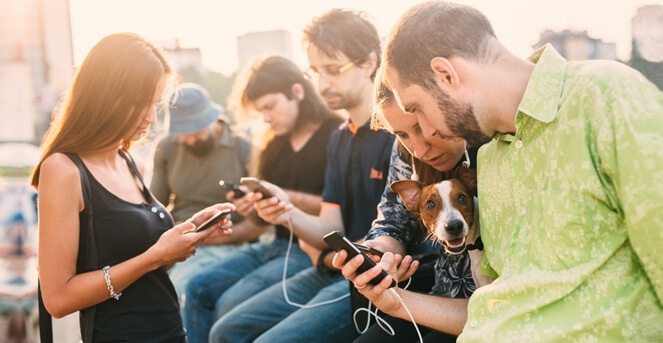 Examples of the past: service innovations that already changed the customer service experience
We are now at a breaking point in the evolution of service innovation, the slow and steady process of technological innovation and evolution of the last decade in the technological world and in the smartphone market of the last ten years has changed into a flood of new disruptive service models that are still difficult to comprehend and at the same time are changing the customer expectations like never before.
Technology and service innovation will ensure a highly convenient customer experience in merging service and technology together, while on the same time will put more pressure on companies to keep pace with these changing trends. That's why in the end providing exceptional customer service through technology will differentiate successful companies from unsuccessful ones.
Just let me give you some examples of how service innovations already changed the customer service experience in a fundamental way. A prime example of service innovations would be of course old -school service-apps, as they have already played a significant role as part of the customer service experience since the beginning of the smartphone era and are the first signs that the world is shifting towards a wallet-less society in the near future, with the smartphone as their heart and brain.
But just take a look how service- apps and cloud based systems also helped to revolutionize the after-sales service in a significant way! In order to offer personalized and effective after-sales service, apps have proven to be the method of choice, as they facilitate direct customer contact and enable your business to enter into a wonderful relationship with your customer after the purchase with a one-click method.
We at B2X also use apps for our customer after-sales service and have introduced the SMARTAPP to effectively help customers to check the hardware and software of their smartphones and get quick help wherever they are.
Another example would be the system "ONE engagement hub" from Thunderhead: ONE is a cloud-based- customer engagement solution designed to enhance the experience of your customers across multiple channels and platforms. ONE works by listening and reacting to the interactions that take place on your customer touchpoints in real time and at the same time provide an omni-channel solution for your customers.
As you can see from this examples: the complete automation of the customer journey through a holistic solution is already in the starting blocks and will be further expanded in the coming years through AI and augmented reality in order to help customers in real-time and spot on.
That is why the evolution of the customer service experience has been already remarkably transformed by technology in the recent years. Whether it is the use of Google Glass to better identify clients by sight to make their experience more personable or using apps and cloud-based systems to address any customer wish directly, there will be a lot more service innovation on the horizon that will create a whole new service landscape that will be more personal, fast, easy and useful.
And while the development of new innovations in the smartphone market is stagnating, more and more investments are being made in the development of IoT devices. Nevertheless the smartphone will be combined with big data and will serve as the heart and brain of this new technological ecosystem in 2017 and beyond.
Way to the future: disruptive innovations that will form a new service landscape
Imagine you wake up in the morning and your coffee machine is low on coffee beans – frustrating right ?
The good news is: this scenario will probably not happen in the year 2020! Because your coffee machine will be an IoT device that is connected to the internet and will automatically order itself some beans from your favorite bean supplier!
Let me give you a brief description of what we understand as IoT devices: Basically IoT can be described as a huge network of connected devices that can range from wearable devices, washing machines to fully home automated systems. IoT can also include smaller device objects such as car components, networked traffic lights, which can make up an entire connected city also known as Smart City.
For instance IoT can be also used effectively in the smart home: Inmates can turn on air conditioners and electric water heaters before coming home by texting through their smartphones, so that they can enjoy a hot bath without having to wait. Moreover: they can monitor the status of their homes at any time they are not at home: the dawn of a truly connected digital lifestyle!
It is estimated by Gartner that by 2020 there will be more than 20 billion connected devices which will have a major impact on our lives. The future impact of this is that almost all devices will be connected to the Internet. So how can your business effectively use IoT devices to leverage the customer service experience?
First: IoT can help your business to gain insights into product performance, consumer trends, and purchasing behavior—at an extraordinary speed – at various touchpoints of the customer-journey and not just at the point of sale.
Moreover, IoT can help you by estimate how IoT products are used by your customers. According to this information you can quickly update features or adapt future models to more closely adjust with customer needs and demands.
In addition to that: IoT will also change after-sales services in a fundamental way. Predictive analytics will anticipate problems and enable preventative services – moreover augmented-reality-supported IoT devices will increase service efficiency and effectiveness throughout the whole customer journey. In a whole, IoT devices will change the way that companies and customers interact—with benefits to all involved. At the same time customers can get more personalized service and products, while keeping their sensitive information private.
This is also the reason why the insurance industry will gain remarkable profit from this development, because customers will pay significantly more attention to the security of their data and their devices, because IoT and mobile security will be so critical.
Augmented Reality and Holoportation
Does sound augmented reality familiar to you? Probably not if you are not a tech-pro: Augmented reality is still in its adolescence, but it will significantly mature in the next years to become the new kid on the block and will be a function that is naturally attached to your devices all around you and help you to significantly leverage the customer service experience in several ways.
Technically speaking, augmented reality can be described as a technology that layers virtual objects on top of your actual physical environment in real-time in adding a digital overlay to your immediate surroundings through a technical device. In merging the two realities together, the two create a space called mixed reality. Virtual reality in comparison, is a technology in which customers can completely immerse themselves in a new reality. In particular, China will be a leader in the production of virtual reality and augmented reality devices in the future.
Just imagine looking at a wall on your house and seeing the actual stock-exchange price or the actual weather forecast projected on it! Or you already experienced augmented reality if you are the lucky owner of an BMW 7: the augmented head-up displays are typically integrated into your windshield. Through augmented reality, the whole customer service experience and customer-journey will be turned upside down. For instance: Through the use of augmented reality you will be able to just add an virtual coffee-table to your living room and see how it looks like, so there will be no need for you to use a tape measure anymore. This is already reality: the furnishing store Wayfair uses an App that can be used to visualize the furniture you wish to buy directly in your home.
Speaking of after-sales services: augmented reality will be also a useful assistance to provide your workers with real-time information to improve decision making and work procedures. For example, service agents can acquire repair guidance on how to substitute a particular spare part as they are looking at the device needing repair in your shop. This information may be displayed directly in workers field of sight using devices such as augmented-reality glasses.
But this will not be the end of the development. Augmented reality devices will merge together with advanced technologies like holoportation in the near future. Holoportation is a system, by which people are observed by cameras, transformed into 3D models, and virtually reproduced in real time in distant spaces.
With the emerging technology of holoportation, customer care agents will be able to literally beam themselves to the customer and assist your customers on the spot – personally, directly and until the customer is completely happy. Through this technology it will be possible to provide supreme after – sales service spot on and in real time.
So in the end the real mission for augmented reality and holoportation as part of it must be to integrate these technologies effectively into the customer journey in a way that it enhances the existing customer experience, making it easier, more convenient, more exciting and perhaps even more fun!
Artifical Intelligence and Bots
As augmented reality and holoportation change the direct customer-touchpoint in a dramatic way, a further ingredient is needed to guarantee an effective and convenient customer experience in the future. While augmented reality and holoportation are technologies that are still in development and will show their full potential in the years to come, artificial intelligence can already show impressive achievements for the overall customer experience.
Artificial intelligence found already its way into our homes and has significantly changed and enhanced our daily live: Just think about Amazons Alexa, Apples Siri or Cortana from Microsoft. As you maybe already experienced firsthand in your own business: nowadays you are struggling with an ever-increasing flood of data from different channels and you don't know how to handle this data adequately. Naturally this leads to a lot of unnecessary stress.
That's why you need to provide more channels and customer touchpoints, and at the same time you have significantly less time to process queries effectively. But consumers expectations about customer service are increasing and today they expect reactions in real time, contact options around the clock plus an individualized service approach. To put it in a nutshell: the challenges for customer service have increased in a significant way.
The good news is that routine processes today can largely be processed automatically by software based on artificial intelligence. Only in case of doubt, the AI will pass the case to a human- agent. This also means that the employees in the customer service take care of the special and challenging concerns – so the human touch of the customer experience will not be lost, despite the use of AI.
In all these processes, artificial intelligence will be able to learn by itself and will also be able to answer customer inquiries more quickly and effectively on its own, so it cannot be compared to a simple chatbot. In the future, IoT data will enable businesses to understand and anticipate the behavior and preferences of their customers, while AI will make the whole customer service experience more fast and effective while service-agents will have the time to address individual customers with personalized messages through augmented reality. In the end the whole customer service experience will become more proactive and personalized, increasing customer happiness and reducing service costs.
That's why to deal with just the traditional aspects of service delivery and marketing will no longer be enough for you to survive in this new emerging service-landscape of the future.
How your company can respond successfully to Service Innovation
With the advent of Big data, AI and IoT devices you can personalize your service more effectively and tailor your service to the individual customer adequately. Just think about how much valuable data you can gain through the use of IoT devices or mobile phones.
AI will continue to help you to evaluate this data and forward only the most valuable data to the decisive touchpoints. This means that almost no customer wish should pass by using these advanced technologies and you and your team will finally be able to see the big picture. For instance an insurance company using IoT and AI devices will complement the information it has about you with real time information like the weather forecast.
If the IoT- system detects danger to the customer's car due to rough weather conditions it will communicate this information to you to prevent damage to your car.
Accordingly the nature of customer expectations has changed dramatically. The customer expectations about service have developed in line to expect the service to be personal and foremost quick. In case that customers are not completely satisfied with the customer experience they will quickly shift to another service provider while making rumor on the social media.
Therefore, the customer wishes and needs will be addressed much more effectively in the near future. The big question for you and your business is accordingly: How can you address your customer's wishes individually and effectively before your competitors will do? A way to adequately respond to customer wishes and to personalize the customer experience would be the new concept of design thinking, which was already successfully used by Apple.
In breaking down silo thinking and developing a whole new agile course of action, design thinking should help you to respond to the increased complexity and to customer's wishes more adequately, because it's a thinking- method, which puts the individual customer in the spotlight.
That means that you don't develop a service-idea first, but instead develop the idea from the perspective of the individual customer. It is a simple approach right, but really effective.
In the first step of design thinking you should ask yourself: What problem do I want to solve? And in the next steps: Which solution fits the described problem? Design thinking is therefore particularly well suited in developing service solutions, because it puts customers in the spotlight. You do not start to develop a new service or idea because you want to apply a new technology or a new service that you would like to implement. The first thing you look after in design thinking is: at which touchpoints are actually problems with the customers? Which are his needs and where are the current difficulties? From this point on you can begin to develop new service ideas and service solutions.
This means that in the end the customer service or the product is really smart and will be individually tailored to the individual customer. You can also use design thinking in after-sales services: despite the service innovations it will be necessary to get general customer opinions and feedback from your customer directly in order to constantly develop your service and conduct surveys to find out what your customers wishes really are- this method will get you fit for the new service-landscape.
Accordingly a new and necessary paradigm shift in the service supply chain will become clear as industry leaders continue to innovate in frontend customer service techniques like self- and in-store service as well as back end supply chain strategies like component-level replacement.
So try to stand out from the crowd and attempt to attract attention to your customers by personalizing your after-sales services and your supply chain.
In addition to that it will be a real competitive advantage – despite the effective service through service innovation – to address your customers directly by name or send an extra catalog to their preferred area. Generally speaking, it will be a huge mistake to underestimate customer ratings in the age of digitalization. Actively ask your customers for brief feedback on the website or on social media. You can also use these references for your marketing purposes!
Moreover for this to work, it will be necessary for your company to create an agile working environment to radically simplify all customer-interactions and processes. You can say that simplification in a complex world stands for a drastic reduction to the essentials. In a modern business culture, the inner world of a company is constantly revived by external feedback. As a result, structures can be created in which only relevant information is quickly forwarded to the right places. The smart use of IoT, AI and augmented reality will therefore assist you to radically simplify your internal processes and in the end the whole customer-journey.
A glimpse in the future: how a new customer experience could look like
Service innovations ensures that service will be more and more personalized, fast and effective. IoT, ambient experiences and augmented reality will make highly personalized customer service available everywhere on the planet.
The new customer experience will happen in the background, under the surface, in the air – everywhere. You can also call it the device mesh which is a dynamic network where all devices operate in conjunction with each other, rather than in isolation.
Just imagine how your shopping experience will look like in 2020: You can just sit on your couch while a virtual support agent will support you through holoportation in real time and explain to you the newest features of your device through augmented reality. The delivery of your product will also be seamless and fast: probably via a drone. But don't be afraid that the human touch or the interaction with a real service agent will be lost!
The service providers systems will be so optimized through AI that no customer complaint will get lost, and in need there will be a human service agent who will assist you. Due to this ongoing optimization of the customer-journey, failure will not be an option for you and a excellent customer care and journey will become the key differentiation for your business and a feature that simply has to work, also because Millennials and GenZ will expect a seamless customer journey from your company. That's also one of the reasons why in this new service landscape, mobile and IoT brands who disappoint their customers will be punished all the harder by their customers' resentment.